TreePeople's yearly drive-thru event to get your own tree sapling
Posted on 04/13/2022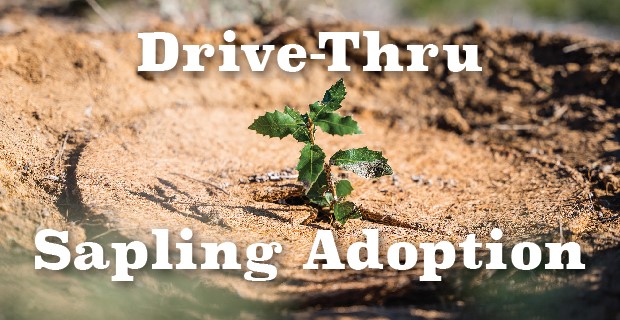 We are excited to announce TreePeople's yearly drive-thru event to get your own tree sapling will take place on Friday, April 15th from 10am-12pm!

This year we have a variety of large tree species available for adoption:

Coast Live Oak (Quercus agrifolia)
Scrub Oak (Quercus berberidifolia)
Valley Oak (Quercus lobata)
Incense Cedar (Calocedrus decurrens)
Toyon (Heteromeles arbutifolia)
Southern Black Walnut (Juglans californica)

All of our trees are still saplings, which means they are young trees in small pots. If you have any questions about a certain species or are having trouble selecting one, please contact us!
Your sapling should be planted directly in the ground. They should not be planted in pots. Each sapling species requires a different amount of space around and above it. We advise planting with a generous amount of space from any other trees or structures and no overhead wires above. Here are more specific instructions per species:

Most of the species can be planted within 20 feet of a building.

The Valley Oak requires up to 30 feet of space.

The Coast Live Oak requires 25 feet of space.

Incense Cedars grow straight and can be planted with as little as 20 feet of space but require no interference above and should not be planted under power lines. They can grow over 40 feet tall.
Toyon, Scrub Oaks, and SoCal Walnuts can be planted within 15 feet of a structure but should not be planted where there is plumbing.

Instructions on how to plant your sapling will be provided at pick up.

We have limited availability of smaller shrubs available upon request.

How to participate:

To reserve your sapling today, email Jordan Hutkin at [email protected] to schedule a pick-up time. Please choose from 10-11am or 11am-12pm on Friday, April 15, 2022. Drop-ins will not be permitted.

The drive thru event will take place at our Coldwater Canyon Park at 12601 Mulholland Dr, Beverly Hills, CA 90210. Upon arrival, please proceed to the back of the parking lot where a member of our staff will hand you a sapling.

After reserving your sapling, you will receive an email confirming your time slot and our address.

Things to know:

This is a drive-thru only event. There is a limited number of saplings available to take home.

There is a one sapling limit per Adoption Event. If you would like to apply for more you will be placed on a waitlist and notified if there are additional saplings available.
Saplings received through this adoption must get planted on private property, not in the area in front of your house between the sidewalk and the street / parkway. Otherwise, these trees will lift the sidewalk over time due to their size and exceed the height of any overhead wires.

Please do not attend this adoption if you have not submitted an order with TreePeople. We will have pre-ordered saplings at the event location only.

Tree Pickup & COVID-19:

TreePeople has taken necessary precautions to ensure your safety and the safety of staff with this program during COVID-19. Adoption event staff are following health and safety protocols.

Things to know when picking up your tree order:

This is a drive thru event. You will be directed upon arrival, and a sapling will be safely handed to you or placed in your car.

Make sure you wear a face covering.

Keep social distancing of at least 6 feet.

And, as always, please stay home if you are not feeling well. We can make arrangements to get you your seedling at a later date.